Lights are often one of those underrated details of design. We all know how important it is to get the amount of lighting right in a home, but it's also equally important to choose your light fittings well. Very well! Spend the money and get it right in the first place, go for quality and classic fittings that will stand the test of time. You don't want to rush the choice and install something that will just 'do'! Each light needs to be the right choice, so taking a little more time to make the decision in the first place and investing a few extra dollars if need be, to get what you really want, will be well worth it in the long run. Lights are like the shining jewels in a house, you do actually look at them (a lot)! They can be and are worthy of being show-stopping statements, adding to the charm and warmth of your home. Make wise choices and ensure the lights suit the style of your house, this way they will pull the whole design together seamlessly and they'll shine like a diamond for all to see and wonder at!
So…speaking of lights…I have been carefully researching my choices for our New England / French Country style home for some time. It's really important to me for the reason outlined above that the lights are right in each area of our home, from a functional and aesthetic point of view. With time on my side I have been able to nab quite a few bargains (watching for sales and jumping like a pouncing cat always helps, haha) which has really helped out budget wise. Especially now that I've decided to go out on a limb and order some special sconce lights from Pottery Barn in the United States. I LOVE the fact that Pottery Barn has now landed on aussie shores, however being so NEW, their range (especially in the lighting department) is still very small in comparison to the US. This is frustrating to say the least because I really adore all their lights and they compliment our home perfectly. The sad thing is that there are so few quality sconce light options in this country, we just don't have the range of choice like they do in the states. This is slowly changing, but costs are still prohibitive here too for what is actually available.
Anyway, after much deliberation, I picked my hubby's jaw up off the floor having showed him the quote to have the items delivered to Australia via a US forwarding company…and confident in my decision, I pushed on with placing my order. I'm still not exactly sure how I managed to convince him that these were the only lights in the WHOLE wide world for our bathrooms…the 20% sale at Pottery Barn which was due to expire the day I placed the order helped my cause too I presume. Despite the aussie dollars' lack of assistance, ouch!!
So, these little babies are currently being packed and will be making their long journey to our door (it will be weeks, but that's fine by me) and then hubby will be tackling the re-wire from US to AUS when they arrive, lucky for me he's a hands-on engineer who seems to make anything seem possible. Check back with me later as to how this actually ends up panning out, fingers crossed all goes well as I've heard horror stories about electricians charging the earth for such a service and my budget ain't got any more room to give.
There will be one of these darlings on either side of the double mirrors in our Ensuite
Then one of these either side of the single mirror in our Main Bathroom downstairs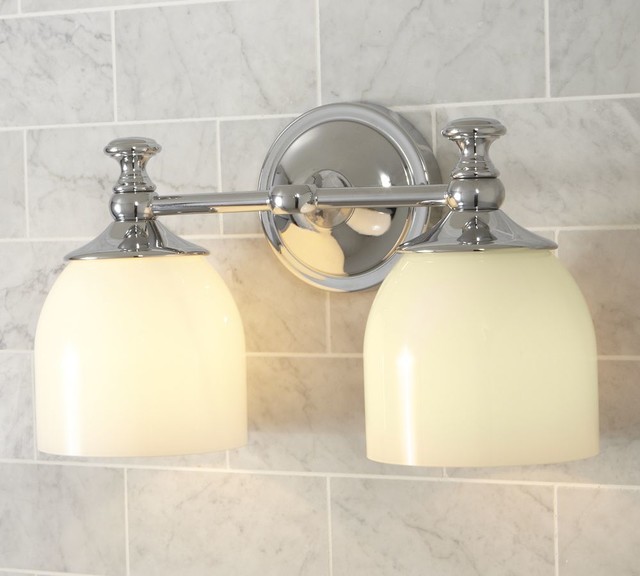 The Powder Room opposite the bathroom will have this double version fitted above the mirror
Course since I was sending all these items, I thought there was no harm slipping in one more at the same time…you guessed it, I added this little to-die-for envelope mailbox to my cart while I had the chance!! He'll love it when he sees it, least that's what I'm telling myself for now.
So excited to see my precious jewels, now to wait, patiently.